Shahid Kapoor's Daughter Misha – Getting Paparazzi Attention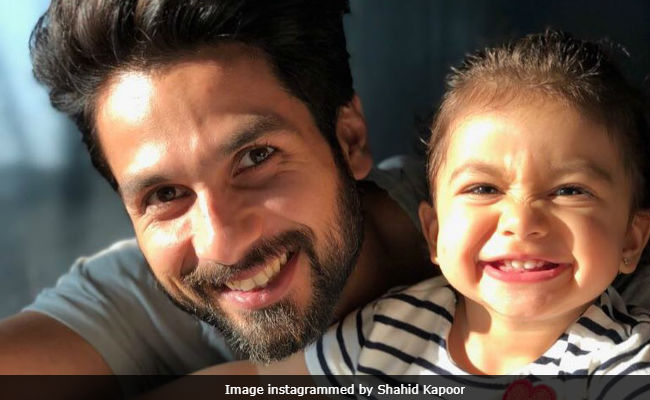 Shahid Kapoor's one-year-old daughter Misha is as popular as her father but the 36-year-old actor told mid-day that he 'hates' the paparazzi attention on his toddler. "My daughter didn't choose this glamorous life. What's her fault?" he told mid-day. Shahid Kapoor, who was recently seen in "Padmaavat," added: "I hate to think of all the glare that's on her. That is probably the only time I feel I should have had another job. I don't want her to deal with it. It's not good for children to go through this. They have a right to a normal childhood."




Shahid Kapoor also said that he had a 'regular childhood' despite being the son of actors Pankaj Kapur and Neelima Azeem. "No one knew I was Pankaj Kapur's son till I joined the industry. It was only after an IMDB page about me was made that people discovered who my father is. My mother was a struggling actor, who separated from my dad when I was growing up. I got to know my father only after turning 18. So, I had a regular middle-class childhood, devoid of attention," the Ishq Vishq actor told mid-day.

But it's not the same for Misha, who was born in August 2016. "She has to deal with it because I am her dad. It's tough for me, as a parent, to make peace with that. I hope she will learn how to tackle it when she grows up," Shahid Kapoor told mid-day. Earlier, Shahid Kapoor's wife Mira Rajput has also requested the paparazzi to keep a distance from their children, when pictures of Misha playing in a park went viral.
 Several Bollywood celebrities such as Rani Mukerji and Kajol among others have also spoken against the paparazzi clicking pictures of their children. Rani Mukerji earlier revealed that her husband Aditya Chopra is absolutely against sharing pictures of Adira on social media (she was missing from the photos of her own birthday party). She also told news agency PTI that they took steps to shield Adira from the shutterbugs. "My husband being a private person wants Adira to have a normal upbringing. Seeing the circumstances around her, where the parents are slightly known, there will always be an intrigue as to 'how our child is?'. You don't want them to have extra privileges or importance. You want them to grow up as normal people," Rani told PTI.



(With inputs from PTI, ndtv)